Ad blocker interference detected!
Wikia is a free-to-use site that makes money from advertising. We have a modified experience for viewers using ad blockers

Wikia is not accessible if you've made further modifications. Remove the custom ad blocker rule(s) and the page will load as expected.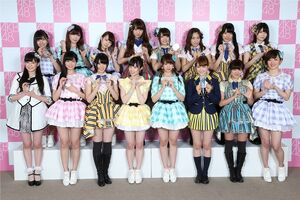 Upcoming Girls is a unit from AKB48 singles that features the members that ranked between the #65 and #80 position at the Senbatsu Election. The unit first appeared on Chewing Gum no Aji ga Naku Naru Made, from Kokoro no Placard.
Members
1st Generation
Chewing Gum no Aji ga Naku Naru Made (Kokoro no Placard) (16 Members (65#~80#))

2nd Generation
Kimi Dake ga Akimeiteita (Halloween Night) (16 Members (65#~80#))