Watanabe Mayu
渡辺麻友

Watanabe Mayu, 2016
Information
Nickname
Mayuyu (

まゆゆ

?

)
Birthdate
March 26, 1994
Birthplace
Saitama, Japan
Bloodtype
AB
Zodiac Sign
Aries
Height
154cm
B-W-H
71 - 55 - 82 cm
Shoe Size
22.5cm
Professional Information
Genres
J-Pop
Occupation
Singer, Idol, Actress
Years Active
2006-present
(10 years)
Agency
Ogi Production/AKS
Group
AKB48
Team
Team B
Generation
3rd Generation AKB48
Associated Acts
AKB48, SKE48, SDN48, NMB48, Nogizaka46, HKT48, JKT48
Sub-Units
Milk Planet, Mayuzaka46, NO NAME, Team Surprise, Balance Sentai - Veggie Rangers, Yasai Sisters, Watarirouka Hashiritai 7, Watarirouka Hashiritai, Okashina Sisters, Team Dragon from AKB48
Blog
Watanabe Mayu (Team Ogi Official Blog)
Watanabe Mayu (Watarirouka Hashiritai 7 Official Blog)
Google+
+渡辺麻友
Twitter
@karaage_mayu
Watanabe Mayu is a member of AKB48's Team B and a member of Watarirouka Hashiritai. She also has a solo career. 
Profile
Name: Watanabe Mayu (渡辺麻友)
Nickname: Mayuyu (まゆゆ)
Birthdate: March 26, 1994
Birthplace: Saitama, Japan
Zodiac: Aries
Bloodtype: AB
Height: 156cm
Bust: 71cm
Waist: 55cm
Hips: 82cm
Hobbies: Collecting polkadotted things
Special skill: Drawing manga
Charm Point: Oshiri (bum)
Audition Song: Kitade Nana - KISS or KISS
Favorite Drink: Pirukuru
Senbatsu Selection Events
Discography
Singles
Discography Participation
Units
Stage Units
B1 (Seishun Girls)
Ame no Doubutsuen
Fushidara na Natsu
B2 (Aitakatta)
Nageki no Figure
Nagisa no CHERRY
Senaka Kara Dakishimete
B3 (Pajama Drive)
B4 (Idol no Yoake)
H2 (Yume wo Shinaseru Wake ni Ikanai)
B5 (Theatre no Megami)
Team A Waiting Stage
Skirt, Hirari
Glass no I LOVE YOU
Team Surprise 1st Stage
Suiyobi no Alice
Kimi no C/W
Concert Shuffle Units
Live DVD wa Derudaroukedo, Yappari Iki ni Kagiruze! AKB48 Natsu Matsuri
AKB48 Masaka, Kono Concert no Ongen wa Ryuushutsushinai yo ne?
Nenwasure Kanshasai Shuffle Sumaze, AKB! SKE mo Yoroshiku ne
Skirt, Hirari
7ji 12fun no Hatsukoi
Glass no I LOVE YOU
AKB104 Senbatsu Members Sokaku Matsuri
Blue rose
Tsundere!
Skirt, Hirari
Yokohama Arena 2010 'AKB48 Manseki Matsuri Kibou Sanpi Ryouron'
Surprise wa Arimasen
AKB48 Kouhaku Utagassen 2011
Gyomu Renraku. Tanomuzo, Katayama Bucho! in Saitama Super Arena
AKB48 in TOKYO DOME ~1830m no Yume~
Nage Kiss de Uchi Otose!
Candy
Kuroi Tenshi
AKB48 Kouhaku Utagassen 2012
AKB48 Group Rinji Soukai "Shirokuro tsukeyou janai ka!"
Nageki no Figure
Pajama Drive
AKB48 Super Festival at Nissan Stadium
AKB48 2013 Manatsu no Dome Tour ~Mada mada, Yaranakya Ikenai koto go aru~
Fukuoka Dome
Shonichi
Idol Nante Yobanaide
Sapporo Dome
Kuchi Utsushi no Chocolate
Osaka Dome
Nagoya Dome
Tokyo Dome
Pajama Drive
Shonichi
Rappa Renshuu-Chuu
Faint
AKB48 8th Anniversary
AKB48 Kouhaku Utagassen 2013
Kimi no Na wa Kibou 

(Solo)
AKB48 Request Hour Setlist Best 200 2014
Zannen Shoujo
Pajama Drive
Kimi no C/W
Unit Matsuri 2014
Rappa Renshuu-Chuu
Stoic na Bigaku
AKB48 National Olympic Stadium Concert
AKB48 Group at Ajinomoto Stadium
Works
Magazines
[2010.10.xx] UP to boy Vol.200 December 2010 Issue (Cover & Feature)
GIRL POP 
Photobooks
[2011.05.13] Mayuyu
[2013.03.19] Seifuku Zukan Saigo no Seifuku
Dramas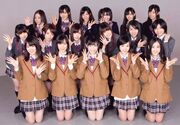 Trivia
She was a member of Team B until the 2012 team shuffle, where she was added to Team A. In the 2014 team shuffle, she rejoined her original team.
Admires and respects her former team member Hirajima Natsumi. 
She likes cute things, the color pink, and potatoes.
Her least favorite food is pickles, and she also hates beetle larvae.
It is often said that her face looks like her mothers.
Once broke her arm due to falling asleep on the bus.
She is a self proclaimed otaku.
Calls her mother "Mutti".
She is the youngest of 3 siblings.
Along with Takamina and Tomochin, her favorite Dragon Ball character is Son Goku.
With Mayu46's Twintail wa Mou shinai, she was be the third AKB member to work with Nogizaka46 in a PV.
Known for her good relationship with Kashiwagi Yuki.
Joined in December 2006 as an original Team B member.
Gallery
Honorary Titles
External Links
Ad blocker interference detected!
Wikia is a free-to-use site that makes money from advertising. We have a modified experience for viewers using ad blockers

Wikia is not accessible if you've made further modifications. Remove the custom ad blocker rule(s) and the page will load as expected.