Ad blocker interference detected!
Wikia is a free-to-use site that makes money from advertising. We have a modified experience for viewers using ad blockers

Wikia is not accessible if you've made further modifications. Remove the custom ad blocker rule(s) and the page will load as expected.
Zetsumetsu Kurokami Shoujo
Released:
July 20, 2011
Genre:
J-Pop
Format:
CD Single, CD+DVD
Label:
laugh out loud record
Producer:
Akimoto Yasushi
Promotional Image

NMB48 Singles Chronology
Next:
Oh My God!
2nd Single
(2011)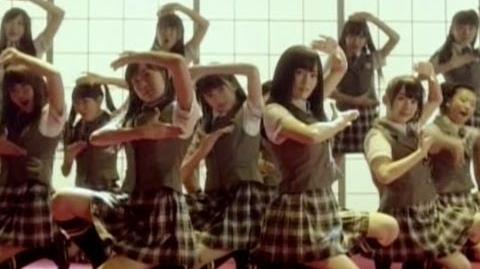 "Zetsumetsu Kurokami Shoujo" is the debut single released by NMB48. It was released in three versions: two regular CD+DVD editions (types A and B) and a limited CD-only theater edition. First pressings of the regular editions came with a national handshake event ticket, one of 16 trading cards (different sets for types A and B), and a photo unique to select shops, while all theater editions came with a different handshake event ticket.
Tracklist
CD
Zetsumetsu Kurokami Shoujo (絶滅黒髪少女)
Seishun no Lap Time (青春のラップタイム; Lap time of youth)
Boku ga Maketa Natsu (僕が負けた夏; The summer when I lost) (Shirogumi)
Zetsumetsu Kurokami Shoujo off vocal ver. (絶滅黒髪少女 off vocal ver.)
Seishun no Lap Time off vocal ver. (青春のラップタイム off vocal ver.)
Boku ga Maketa Natsu off vocal ver. (僕が負けた夏 off vocal ver.)
DVD
Zetsumetsu Kurokami Shoujo (Music Video) (絶滅黒髪少女(ミュージックビデオ))
Boku ga Maketa Natsu (Music Video) (僕が負けた夏(ミュージックビデオ))
Bonus Footage: NMB48 wo Damashichaimashita. 1 (特典映像「NMB48をダマしちゃいました。①」)
CD
Zetsumetsu Kurokami Shoujo (絶滅黒髪少女)
Seishun no Lap Time (青春のラップタイム)
Mattemashita, Shingakki (待ってました、新学期; I've been waiting, new semester) (Akagumi)
Zetsumetsu Kurokami Shoujo off vocal ver. (絶滅黒髪少女 off vocal ver.)
Seishun no Lap Time off vocal ver. (青春のラップタイム off vocal ver.)
Mattemashita Shingakki off vocal ver. (待ってました、新学期 off vocal ver.)
DVD
Zetsumetsu Kurokami Shoujo (Music Video) (絶滅黒髪少女(ミュージックビデオ))
Mattemashita, Shingakki (Music Video) (待ってました、新学期 (ミュージックビデオ))
Bonus Footage: NMB48 wo Damashichaimashita. 2 (特典映像「NMB48をダマしちゃいました。②」)
Zetsumetsu Kurokami Shoujo (絶滅黒髪少女)
Boku ga Maketa Natsu (僕が負けた夏)
Mattemashita, Shingakki (待ってました、新学期)
Mikazuki no Senaka (三日月の背中; Back of the crescent moon)
Zetsumetsu Kurokami Shoujo off vocal ver. (絶滅黒髪少女 off vocal ver.)
Boku ga Maketa Natsu off vocal ver. (僕が負けた夏 off vocal ver.)
Mattemashita, Shingakki off vocal ver. (待ってました、新学期 off vocal ver.)
Mikazuki no Senaka off vocal ver. (三日月の背中 off vocal ver.)
Included Members
Senbatsu (選抜) (16 Members) (Watanabe Miyuki Center)

Senbatsu (16 Members)

Shirogumi (白組) (8 Members)

Akagumi (紅組) (8 Members)

Team N: Ogasawara Mayu, Kadowaki Kanako, Kishino Rika, Kinoshita Haruna, Kotani Riho, Kondo Rina, Shinohara Kanna, Jonishi Kei, Shiroma Miru, Fukumoto Aina, Matsuda Shiori, Yamaguchi Yuuki, Yamada Nana, Yamamoto Sayaka, Yoshida Akari, Watanabe Miyuki
Oricon Chart Positions
Mon
Tue
Wed
Thu
Fri
Sat
Sun
Week Rank
Sales
-
#1
131,654
#2
15,719
#2
7,532
#1
50,240
#4
3,736
#4
3,751
#1
218,441
#3
#14
#15
#10
#9
#5
#11
#9
14,421
#6
#21
#23
#22
#17
#13
#15
#19
5,947
#15
x
x
x
x
x
x
#31
3,177
x
x
x
x
x
x
x
#40
2,408
x
x
x
x
x
x
x
#18
6,864
x
x
x
x
x
x
x
unknown sales
for 3 weeks
x
x
x
x
x
x
x
#41
1,890
x
x
x
x
x
x
x
#24
2,272
x
x
x
x
x
x
x
x
x,xxx
| Year | Month | Month Rank | Sales |
| --- | --- | --- | --- |
| 2011 | July | 3 | 232,862 |
| 2011 | August | 29 | 18,396 |
Total Reported Sales: 267,810
Total Sales in 2011: 263,187 (#18 single of the year)
Total Sales in 2012: 4,623
Total of weeks charting inside Top 200: 33